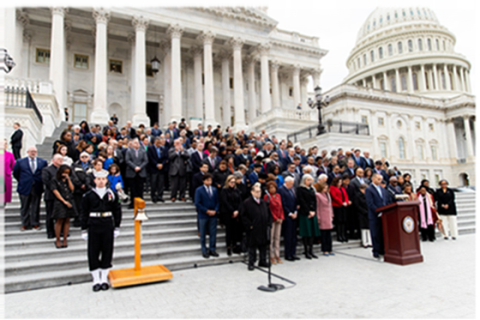 Assistant Democratic Leader Clyburn participates in a Congressional Moment of Silence on January 6, 2023
WASHINGTON, D.C.
– Assistant Democratic Leader James E. Clyburn issued the following statement today to commemorate the second anniversary of the January 6 insurrection:
"The great John Lewis once said his greatest fear was that 'one day we may wake up and our democracy is gone.' My wise friend knew that our democratic experiment was delicate, and its future was far from guaranteed. On January 6, 2021, we came face to face with the reality of this fragility as Donald Trump and his followers sought to overturn the results of a free and fair election.
"In the two years since their abhorrent attack on our nation's Capitol, we have made great strides to hold those involved responsible. The exceptional work of the January 6th Committee, chaired with distinction by Representative Bennie Thompson (MS-02), illuminated the severity of the conspiracy for the American people. Congress also passed critical reforms to safeguard the legal process of future Presidential elections to help ensure this never happens again.
"As we continue our work to heal the damage done to our democracy on that dark day, we must remain steadfast in our defense against disinformation and extremism. If we hope to preserve our fragile democracy, we must remain eternally vigilant and uphold the oath all members of Congress take to 'support and defend the Constitution of the United States against all enemies, foreign and domestic.'"